Now this was a pleasant surprise. I think it's a little like Marmite. Some people will like it. Others won't. I have no idea what side you are on, but I can tell you my opinion:
I loved it.
Uncut Gems is about a fast talking Jewish jeweller, Howard Ratner (Adam Sandler), who has a lot of debt and owes a lot of money to a lot of dangerous people. So he's taking a gamble on a priceless uncut black Opal from Ethiopia, which, with a few right moves, could bail him out of problems with business, family and enemies. But Howard isn't great at making the right moves.
He just makes one blunder after another, doesn't he? Adam Sandler is a man known for his comedic performances, starting out on Saturday Night Live. His career took a sharp decline when people thought his films stopped being funny (if they ever thought that in the first place) and more annoyingly slapstick. His one dimensional performances, often stereotypes of dimwitted accidental heroes who happen to win through by the end, wore so wafer thin that a percentage of the audience began to fervently hate him and his performances. But here playing it straight was a really enjoyable eye opener. Well, if you can call it playing it straight. Howard is a funny character, but he's not trying to be, which is what makes him hilarious yet doomed from the beginning. Sandler's experience in the comedy field no doubt helps, but he balances dark drama and wit expertly.
This film is something of a dark comedy, mixed in with a thriller. It's hard to say it's a thriller when you've got Adam Sandler – Adam Sandler, people! – playing the lead role, but it is. It's stress inducing and tense. From the first moment, with Howard shouting and cursing at people through his phone to (especially) the last moment, where he is balancing his life on a bet, it never lets up.
The ending was great. I was surprised, because like all the other events so far, I had expected it to go badly. But no. The nerve jangling basketball game where everything hangs in the balance. He's placed all his money on the game and locked three dangerous criminals in the entrance to the shop. I'm not going to spoil it for you, in case you haven't already watched it, but it looked like this film was going to have a happy ending. It would be a nice change from what I usually-
Oh…
It was very well done, but then again, there's something unfulfilling about it. We had become attached to Howard, but also the supporting cast around him. The like of Julia De Fiore (Julia Fox), Howard's girlfriend, Dinah Ratner (Idina Menzel), Howard's wife, Demany (LaKeith Stansfield), Howard's aspirational co-worker, and even his children, and we never get to see what happens to them. But then again, it lets us decide for ourselves, and while that can be frustrating, I thought they got it bang on the money here. The unfulfilling feeling is probably more from the actual events that take place in this alternate reality than anything deeper.
There were some great debuts in here as well – Julia Fox was excellent, and at 31, may have a bright future ahead of herself. She was nominated for Breakthrough Actor Award at the 2019 Gotham Awards for her performance. And Kevin Garnett! I don't follow basketball (at all), so I had no idea he existed. His performance was not spellbinding, but he was impressive, even if he was playing himself. Just to clear that up – he's an actual basketball player, not an actor. A little like Call My Agent, eh?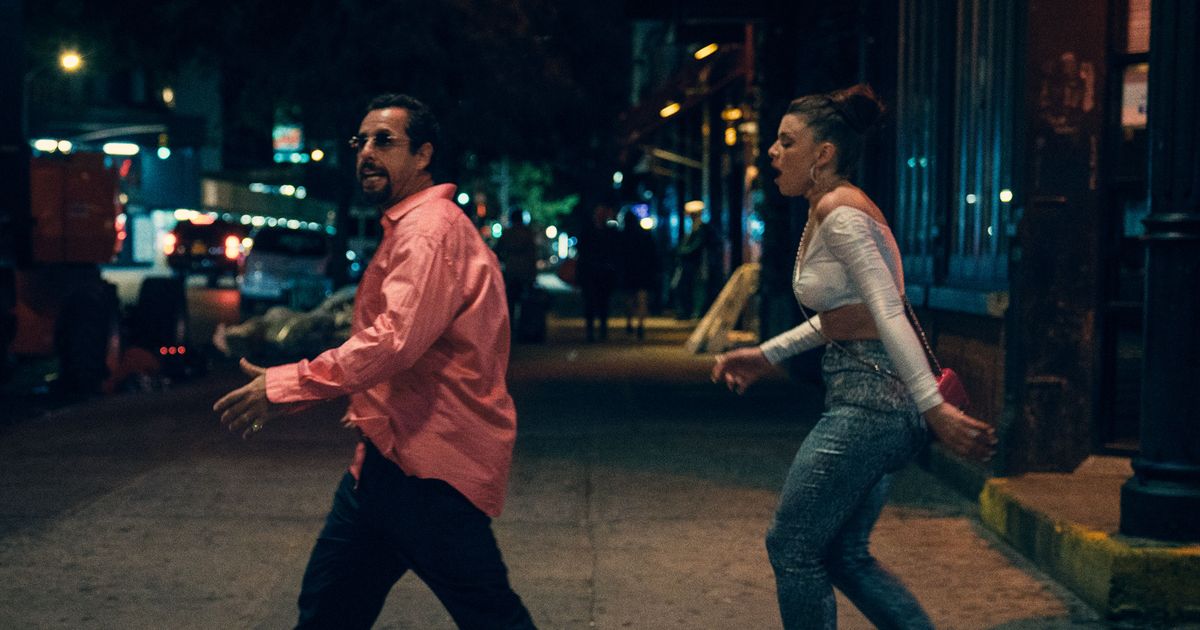 Uncut Gems takes a look at the modern world we live in, and really the clashes of cultures that Howard finds himself between. He's at late night parties with young rappers and grime artists on the make, before heading off to an auction with a lot of ageing, affluent collectors, back to a large, traditional Jewish family prayer, and down to his criminal organisation 'friends'. Howard finds it hard to adjust between all the worlds. He always feels hard done by – let down and looking to lash out at others. When the pressure gets to him, people don't like it when he lets out even a little innuendo of revolt. In the end, it's his downfall.
Uncut Gems also zooms in on a winner's high. Howard is not a good gambler, yet he gambles. Even on a Ethiopian jewel, which he predicts will net him a million dollars. In a great scene with Kevin Garnett, who castigates him for ripping off the diamond miners, Sandler vividly captures what it means to him to win. To bet. To risk. Which leads to his biggest gamble of all. And so close he is to losing everything. The film brilliantly makes us put ourselves in that position. We are so close to feeling the crushing loss, or the ecstatic moment of beating the rest of the world. I'm a relatively cynical person – I wouldn't want it any other way. After all they've put us through? I want it to be dark and gruesome. It could have been the typical Adam Sandler film – you know the drill of your typical Hollywood ending.
But thrillingly, we got to see a natural end to his destructive tendencies. The film remains true to itself and the brother writers Josh and Ben Safdie deserve praise for it. This film is undoubtedly a mess. The plot is tense and crazy, and entirely unpredictable. The representation of what Howard is going through is so superbly transferred to us – similarly to American Animals – that I have to say I love this film. This isn't a feel good. And I am so pleased it isn't. Because it would have just lost everything that it was based around.
In a way, Howard is an uncut gem. He's rough around the edges, but beneath it all, there's some good to him. Despite all his misdeeds, he's not a bad man. He's rather a unfortunate man caught up in a bad world. He loves his family and children but is drowning in a tide of his own making. Even then he can't resist that final gamble. Some might say he got what was coming to him. I agree. Some might say it's the only way he could truly achieve what he was after – peace of mind. I also agree.
But whatever you think, I implore you to watch Uncut Gems. Not an Adam Sandler film. A Safdie brother's film.
Uncut Gems – 8 out of 10