Yes, that's right – on the 26th of April, the 93rd Academy Awards will take place, featuring the likes of Minari, Nomadland and The Father. Don't get me wrong, I'm not excited for that farce. But one film that's perked my interest was Another Round, nominated for International Feature Film and Best Director (Thomas Vinterberg). And, following on from the theme of Danish Vinterberg films, such as The Hunt (also nominated for International Feature Film) and Festen, I decided to take the plunge and give Another Round a watch.
The concept of this film is simple – four teachers, tired with the stresses and mundanity of their lives, decide to delve deeper into the theory that human's alcohol blood level is 0.05% too low. So agreeing to some ground rules – their BAC should never be below 0.05 and that they shouldn't drink after 8:00pm – they begin to see the effects this test has on their lives.
What it expertly captures is how unhappy and numb they are before their little mission. Their marriages are down the plug hole, their student are uninterested in their lessons, life is pointless. So, what can they lose? What's the worst that could happen? Well, funny you should mention that.
Because while Another Round explores the boredom that our four stars had settled into, it also explores our relationship with alcohol. The film doesn't speak down to you, nor does it represent one single point of view. It respects the viewer, and allows them to make a choice by themselves – whether alcohol can be detrimental, beneficial, or little bit of both.
What these four men strive for is to not have responsibilities weighing them down or stress induced back pains – they want to be young again. They see the joy their students get from booze, and they want to feel the same way. Perhaps, they think, if we drink more and more, we'll achieve a cathartic experience – that drink is the true Fountain of Youth. Unfortunately, this is not how it works. Their unadvisable binging results in devastating effects. Simply, an enjoyable hobby turns into a dangerous habit.
I know this may be boring some of you out there, but Mads Mikklesen – wow. He never ceases to amaze me. It's another intoxicating (excuse the pun) performance, and he does a lot of the heavy work. But I also want to take a moment to praise the supporting cast. Thomas Bo Larsen is my second favourite Danish actor, and probably the second best Danish actor. His CV is something else, and he seems to have a wider range of acting than compatriot Mikklesen. I don't know much about Magnus Millang or Lars Ranthe, but both are excellent as a psychology and music teacher. No doubt about it, the casting is truly superb. And, as the film is mostly character based, this is something they got right.
The comedy in this film is an acquired taste, as with many Vinterberg films. There are funny moments, but to describe it as a comedy would be pushing the boundaries of that word to its limits. I found Festen funny. Perhaps, The Hunt and Another Round are a little more mainstream, less dark, and, well, less funny.
Big warning here: the pacing of the film is incredibly slow. Really slow. It's a thinking film. And while I appreciate 'thinking films', sometimes I'm just not in the mood for it. You need some element of suspense or action. It's a charming and likeable concept, but let down by being too damn predictable. I guarantee you've seen a version of this film before. I think the execution is excellent, which makes it better than those other versions, but that's something Another Round fails to get away from. The plot is much better, but at points I definitely found myself preferring The Hunt.
It's a bittersweet ending. The question it leaves us with is whether we can truly find happiness at the bottom of a bottle. We have the juxtaposition of Tommy's death, and the celebration of the students passing their exams. Why does Mikklesen's Martin dance? It's not the alcohol, no. It's the text he receives from his wife. It's finally letting himself become the man he once was, who enjoyed jazz ballet and hanging out with his chums. He's, in a way, young again.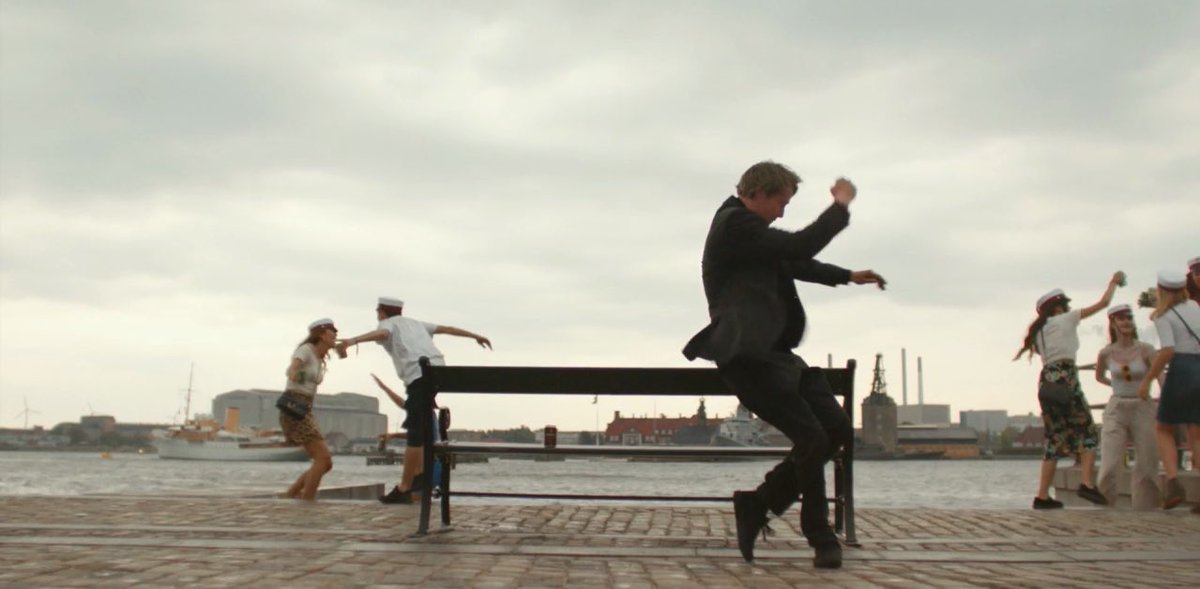 The message of the film is simple. Alcohol, in moderation, can be a good thing. And while that's important, I found myself bored with the answer. Honestly, I already knew, so I came out learning… well, not much. This is a good film – the acting is amazing, the directing is superb, the plot is well structured – but at the end of the day, I was let down. Another Round failed to capture my imagination. I wasn't desperate to keep watching. I wasn't stuck to the screen.
It's a thinking film that's performances were better than it's thought.
Another Round – 7.5 out of 10