And that is the question. The problem is, it's not a question asked or answered enough. If you've watched the film, you're probably wondering how I could even suggest M*A*S*H is anything but a comedy, yet here we are. What does that say about me? Well, luckily, this isn't a psychoanalyst session, but rather a film review. However, if you would like to file a diagnosis, please do so in the comments below.
M*A*S*H is based around three surgeons in Korea, Hawkeye (Donald Sutherland), Trapper (Elliott Gould) and Duke (Tom Skerritt), who due to their importance in the war, take complete advantage in the most irresponsible, heartless and misogynistic ways possible. Yes, this is a funny film.
Of course, M*A*S*H hasn't got a story, or any clear narrative arc at all, some would argue typical of a Robert Altman film, but that's what makes it so brilliant. It's full of improvisation and overlapping dialogue, and the film really feels like a group of comedy skits stitched together by a loose piece of string. You can see how it was translated into the more famous sitcom version of the film.
The cast is an interesting one – this is the film that made both Donald Sutherland and Elliott Gould. After M*A*S*H they took very different directions – Sutherland, as well as making some classics, was able to pull off the leading man, and reached a very big peak soon after. He still works today at the grand old age of eighty-five, and rightly has a reputation to be proud of. People forget Gould made some excellent, quirky features during the 70s, and for a period was a major star – but now is mostly recognised from Friends and Ocean's 11, by which he was almost a pastiche of his former glory. However, the chemistry between the two works perfectly.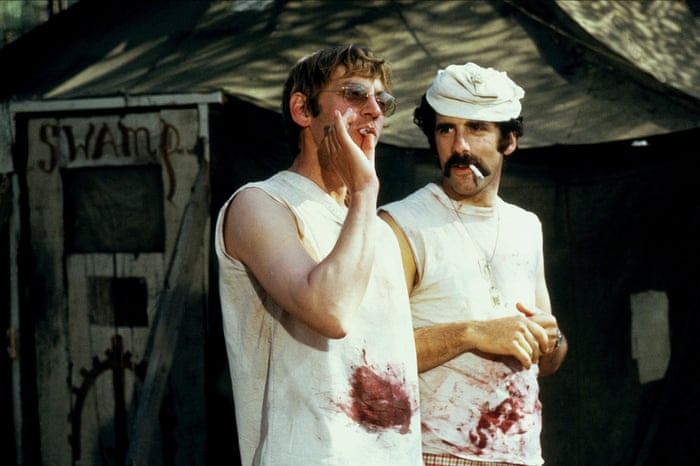 More surprising is the inclusion of Tom Skerritt as Duke, who you may also remember as Dallas in Alien, and Robert Duvall as Frank Burns, the brilliant Tom Hagen from Godfather Part I and Part II. Sally Kellerman plays "Hot Lips" – who you need to watch this film for just to find out how she got that name – and alongside Duvall, they are two important keys that makes the units unjustified harassment all the funnier. Kellerman earned herself an Oscar nomination for Best Actress in a Supporting Role.
It's an incredibly sexist film, and very outdated in that way. If that's something you think you'll struggle to get past, then stay well away, but it does provide some of the most hilarious scenes – the recording under the bed, the suicide supper, the shower situation – and ties in with the taking down any structures of authority. What's the only rebellion you can have in the middle of a war? Being infantile, wearing hideously inappropriate Hawaiian shirts, playing golf, smoking cubans and drinking martinis. And that, ladies and gentlemen, is M*A*S*H.
It takes about twenty minutes to get into the film – you could argue that this really is the killing of time. It's interesting back in 1970, you could almost afford to 'structure' it as such, although structure is a loose word. With the "attention deficit disordered generation" as I like to call them of today, you need a big inciting incident to get strapped into the action – M*A*S*H just wants you to spend time with our ruthless alter egos. What the film really reflects is what was happening to young Americans during the Vietnam war – a lot of boredom.
While this is a comedy, just try to forget it that fact while watching it. Imagine this isn't a film, but you're right there in the thick of it. The truth is, these are sadistic people, who take advantage of their situation because they're deeply unhappy. Look at M*A*S*H through this lens, and it's, well, pretty depressing. People are dying, blood is everywhere, and the unit is sick of it all. If you can find them, there are some very dark undertones. They try to pretend they don't care, but it's getting to them. Outside of the tent, it's all about trying to staying sane. And the only way they can do that is letting go of all their principles and tormenting those that don't.
Of course it's trying to be funny, but it's also trying to get across a message – desperate times call for desperate measures.
This is an incredibly original and an incredibly funny flick. Some may not like this because it's an acquired taste in humour, or perhaps of your religion convictions, or perhaps you verge on right wing politics – in which case, just get the- ahem. Let's stay away from politics. But the views suited me perfectly. And personally, I take the view that M*A*S*H is a masterpiece – of its time.
M*A*S*H – 8 out of 10