SPOILERS!
As I write these reviews, I (mostly…) attempt to tentatively link each film to similar ones in a sort of theme, I guess, over a longer period of time. I went through a Danish/Thomas Vinterberg phase for a time; any of my more pious readers will know paranoid '70s films has been the major thread in recent times; I've slowly been progressing through the tricky course of Kubrick; psychological horrors were once – and always will be – a point of interest; 'loner cinema' – y'know, Taxi Driver, Joker, The Conversation, The King of Comedy – is never over; and hopefully we'll be seeing a bit more Alexander Mackendrick in time to come.
So where does Memento fall? Well, it doesn't. Maybe it could stake a claim for 'loner cinema', but that would be threadbare. So why could I have possibly included it today?
Simple: because it's a brilliant film, chump! Directed by the often scintillating, often flawed Christopher Nolan, the film is about Leonard Shelbey (Guy Pearce), a former insurance salesman, who loses his ability to create 'new memories' (also called anterograde amnesia) when he's hit on the head by a man who has raped and proceeds to murder his wife. Using the untrustworthy help of Teddy Gammell (Joe Pantoliano) and Natalie (Carrie-Anne Moss), as well a disciplined life of habit, notes and tattoos, Lenny tries to track down the man he thinks killed his wife.
Memento is everything that you can love about film – it's in the style of an old-fashioned noir, but perfectly combined with a thrilling, riddled and mysterious plot. It still feels surprisingly… modern. Despite the fact that, yes, no one uses polaroids any more, and most of the technology feels old fashioned, it's still incredibly shocking that this film is 21 years old. The swirling story is as intriguing as ever.
I've really come to despise the use of iPhones and such in more modern films and TV, and I don't think I'm the only one. It's actually pretty tough for screenwriters to utilise and not ruin their plots. The use of polaroids instead becomes iconic because we don't have them today. It's just like the use of old burner phones in Breaking Bad has become archetypal to any crime show around. There's something so romantic about the polaroid – the fact every picture is unique and total individual, and can never be recreated again. While Lenny's tattoos are permanent, linking back to the historical tribal days of honour and fortitude, his photos can so quickly be erased.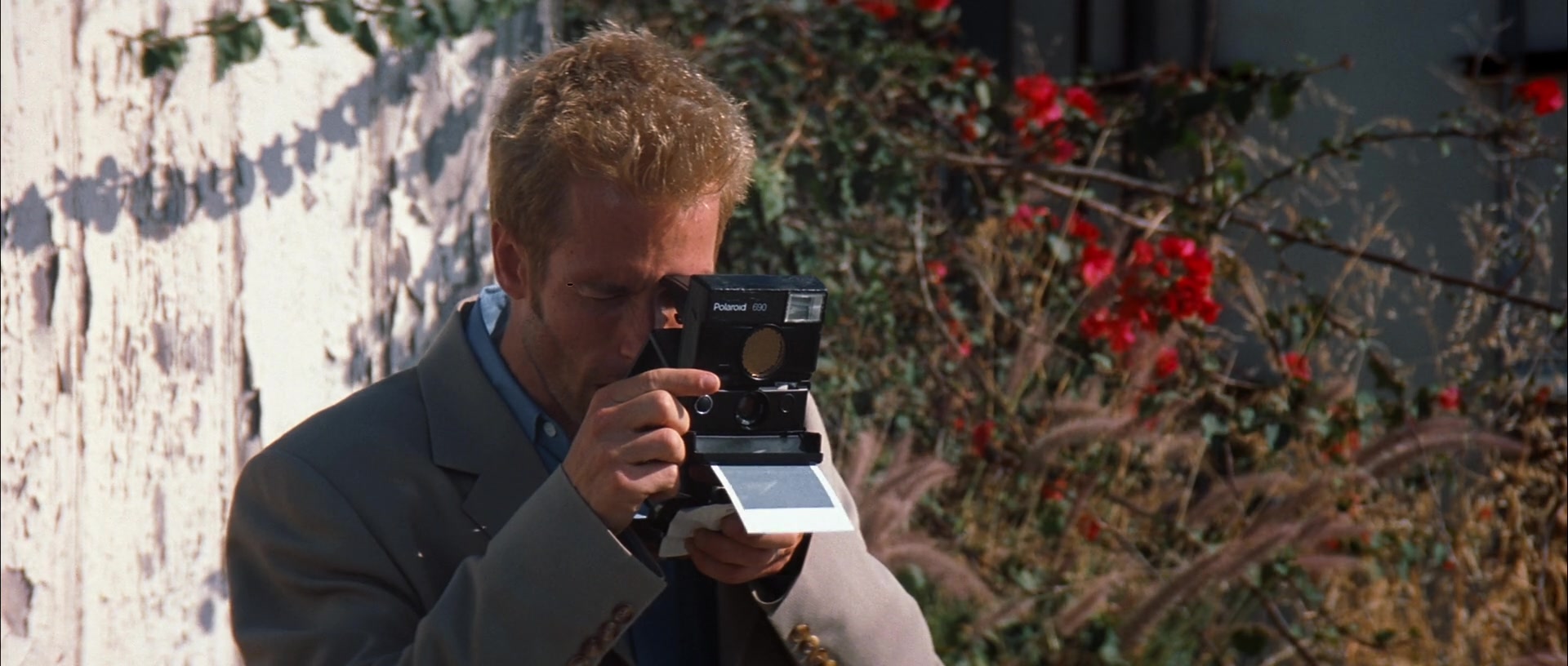 I do think this is one of Christopher Nolan's best, if not the best. The direction is incredibly slick and stylish, and the screenplay is nothing short of a triumph. Sometimes, when Nolan has to go smaller than a money flushed Tenet, say, his films have to be more grounded and down-to-earth. And I think this is very effective in making his ideas, which can often be infuriatingly complex and pretentious, more palatable for the audience. With Memento embracing such an unusual subject matter, it could have easily crumbled, but instead it became revolutionary because of it.
The non-linear story is what really fascinates me about this film, however. It's genius. The fact we start with what would have been the climax in any other film, and end in the middle of the story, is the pinnacle of filmmaking. It seems incredibly unlikely that anyone would be able to make an audience sympathise with such an unrelatable condition, yet, somehow, Nolan makes us empathise with it.
We're left dazed and confused as we cut from black and white to colour, from past to future, struggling to remember what happened last, how to connect the dots – but it isn't frustrating. It's thrilling. It's satisfying. The convergent narrative is one of the biggest triumphs for cinema, and, to truly appreciate, Memento needs more than one watch.
This was always going to be awkward, but there was never going to be a good time. Anyway, it's only fair that I profess my undying love for Joe Pantoliano. He's such a great, eccentric character actor. Teddy is one of the most interesting, unreadable and complex personalities in Memento. He's always had to play second fiddle (or lower) in his career, and while he seems to thrive in it, I've always felt he deserves more – whether than be recognition or a role worthy of his talent. Pantoliano will, of course, always be remembered for one of the greatest personas ever seen in television – that being The Sopranos' Ralphie Cifaretto, the man we hated to love.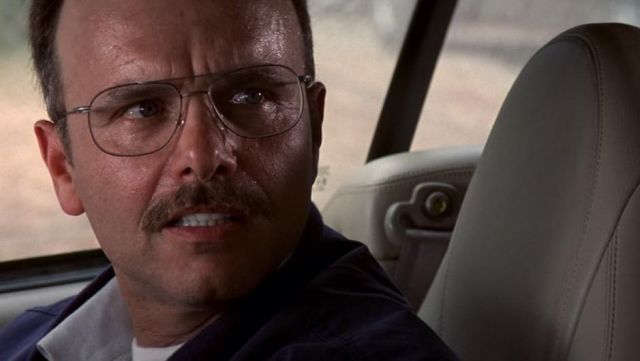 Guy Pearce also has to get a mention, obviously. Leaving out the hair, his is worse than Pantoliano, because that potential and talent is so blatantly there, and it feels like it was never fully exploited to the extremes that it could be. It's sad to see him turning up in Michael B. Jordan's Without Remorse, because he's so much better than that. But if there was ever a man to rise from the ashes, Pearce isn't a bad bet. He's clearly a great guy, stumbling between a mainstream leading man and a selfless actor tired of a immoral industry. It's fair to say, not many could have been as brave as Pearce to take the lead role here, and he got his just rewards.
What's great about this film is that everyone's walked into a room, and gone: "what the hell am I doing?" Memories are incredibly unreliable, and, ultimately, useless. Pointless. Lenny has to experience this in the most literal sense. So he must leave himself notes and clues to have any idea of what he's doing. Yet he lies in these notes and clues, knowing that his future, blank-slate self will never know, to give himself a purpose, to give himself a life.
Let's be honest – who doesn't lie to themselves to live? Who isn't an unreliable narrator, rewriting their own histories in their head as they go? And perhaps the fact that Lenny can't hold any new memories, changing them every time like a dinner party anecdote, means he truly knows who he is. He can see the true picture, just like the clear flash of a polaroid. He knows he's mentally ill, he knows his life is meaningless, and he knows he lies to himself. And who would want to live that life? No one – despite the fact we all do.
You can guess with Memento, but you'll never get it right, even on your hundredth watch. It's a masterpiece. And it's impossible to forget.
Memento – 8.5 out of 10