It's day two in Over-The-Shoulder's mini apocalypse, and Children of Men is the second film to be served on a silver platter for us to devour in a dismal cannibalistic lifestyle. But it's an apocalypse – who can blame us? Anyway:
Set in 2027 Britain, where eighteen years of infertility, global tension, terrorist attacks and extreme immigration policies has left humanity on the verge of breaking point as they face extinction. When Kee (Claire-Hope Ashitey), a young refugee, is miraculously impregnated, Theo Faron (Clive Owen), a cynical bureaucrat, is tasked with transporting her to the benevolent Human Project.
Where to begin? Well, Children of Men is definitely an End Of The World Movie, no doubt about that. The world is in chaos – refugees are in cages, propaganda is everywhere, and warfare is ravaging a sterile planet. As many films of this ilk begin, most of the intrigue is in this alien yet dauntingly recognisable world. London is brilliantly depicted, with typically anaemic skies, grungy streets and urban graffiti under concrete bridges. It feels like we're looking straight into the future with such luscious visuals.
And, like your usual dystopia, or rather your modern sci-fi, Children of Men is very much a comment on 2006's concerns when it was released: 9/11, the Iraqi War and death of Saddam Hussein, Mumbai terrorist attacks, troubling World trade talks and so forth. It's a bleak and grim future imagined, and massively influenced by current events. This film boldly predicted that everything would only go to escalate, and that's expertly portrayed in the opening scene – that all this turmoil would, eventually, blow up.
The acting is uneven. Clive Owen plays a part so apathetic that he looks like he's still half asleep – it doesn't really require much from him, and that's when he's at his best. Michael Caine is surprisingly entertaining as a pot smoking hippie, and it's nice to see Succession's Danny Huston and Ozark's Peter Mullan make appearances. Pam Ferris is painfully bad. Lord, I'm not joking. And Julianne Moore is tacked on as the big name to bring the fans flocking who is promptly killed off, which I always love to see. So, overall, a mixed bag.
But Alfonso Cuarón directs, and stunningly. The cinematography is even better. Cuarón has gone on to direct better films since, such as Gravity and Roma, though it still feels like he hasn't managed a project that justifies his obvious talent. Anyway, here, the long takes, effortless set pieces and empathic colour scheme are incredibly pleasing to the eyes. At one point, blood splatters on the camera, and in true arty pretentious, it isn't wiped till we change angle.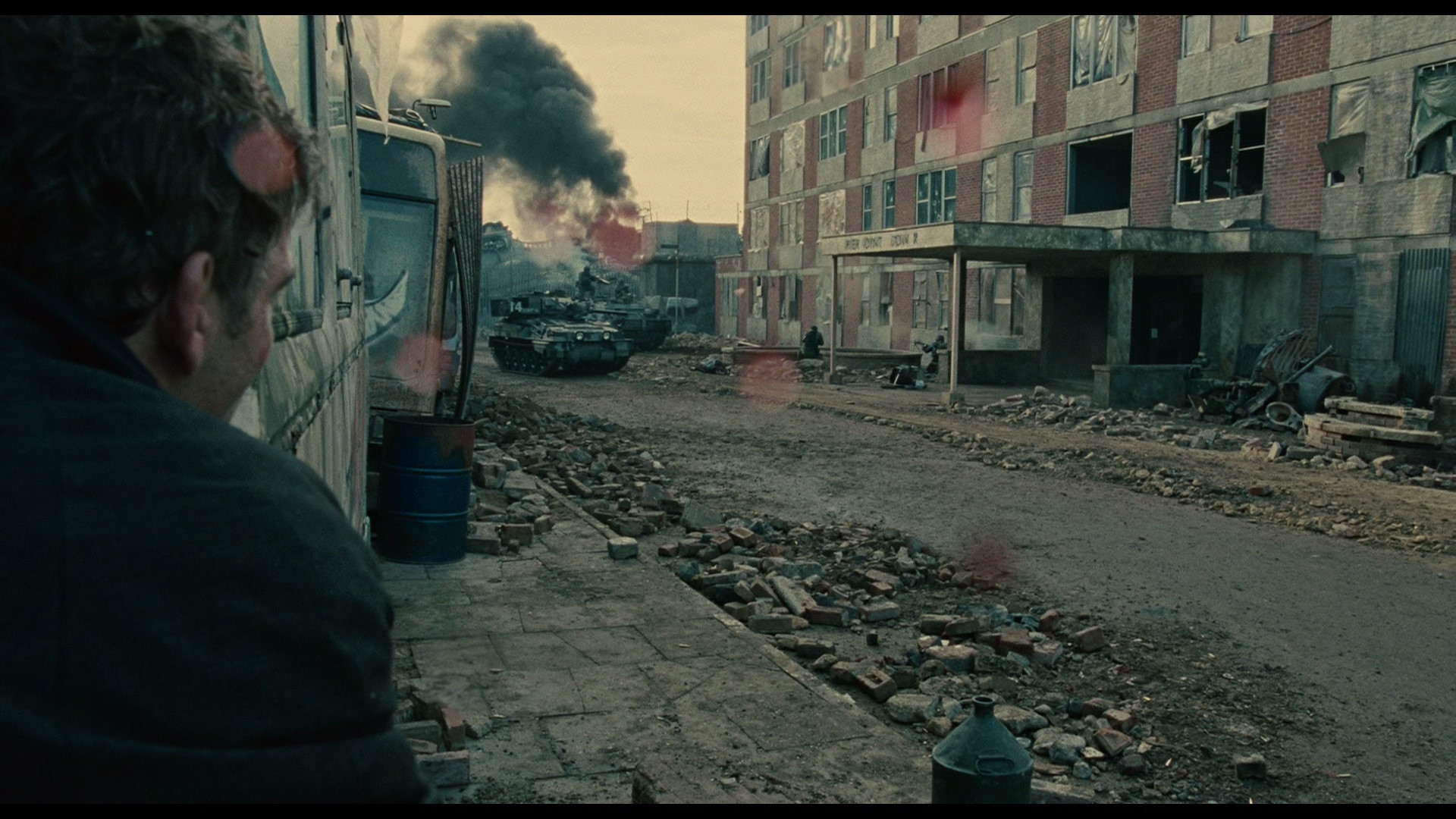 And, as this is a film about a journey in Apocalypse Now fashion, that particular style works brilliantly, with the story being told similarly to one seamless shot – unlike a 1917, where I felt that the uncut film served more as a distraction rather than anything of artistic merit. Cuarón's direction is likely better than the actual film.
See, while it may be a treat for the eyes, Children of Men feels more like speculative drama rather than anything deeper. It has some thrilling scenes, yes, including Julian's death, Theo crawling through the Bexhill refugee camp, or that opening scene – but the film struggles to find a middle ground between it's riveting, visceral highs, and slow moving, dialogue-stuffed scenes dictated by stock characters. Instead of a flowing plot, a poor screenplay probably has to take the blame for a story that feels like jumbled tapestry of different films, stitched together by a loose thread.
I appreciate that the terrorists are displayed just as belligerently as the militaristic government that the Parallax corporation would be proud of. Yet, Children of Men breaks one of the biggest rules in my book: underdeveloped bad guys. The violence is delivered in healthy doses, and always disciplined and warranted, unlike some action flicks. But, like many action flicks, the villains aren't characters: they're set pieces. Plot point for the heroes to overcome. Excuses for explosions.
Isn't that part and parcel of a disaster film, though? No, I don't think so. A hero is only as good as their villain, and while many obstacles have to be evaded here, guns and cockney accents end up feeling like a sorry shirk. Unfortunately, guns and cockney accents have been done before.
But, hey, the music's pretty good. A bit of Deep Purple, lots of John Lennon, some Jarvis Cocker, and a terrible cover of The Rolling Stones's Ruby Tuesday. We move on.
Children of Men is certainly not a bad film. At its best, its gripping, and some truly glamorous directing shines the best possible light on the film. Yet, does the film feel a little… superficial? What's the deeper message here? That there's still hope at the darkest end of the tunnel? As I said before, the film is speculative, unlike a Blade Runner, which – despite its more unrealistic world – feels real. Children of Men is good, but overblown, and unable to find a middle ground to truly plunge the knife in.
Children of Men – 7.5 out of 10